Foton IBROCK helps clean city environment
March 10,2023
March 10, 2023, China, At the end of December last year, in order to continuously solve the new needs in the process of urban sanitation, Foton Brock grandly launched the new product iBROCK intelligent sanitation vehicle series, which have attracted many users due to more extreme experience and other performance characteristics.

The vehicle has a loading volume of 10m³ clean water tank, and the operation time of a single water addition can exceed 80 minutes. Compared with the same dual-engine washing and sweeping vehicle, the operating endurance can be increased by 30%.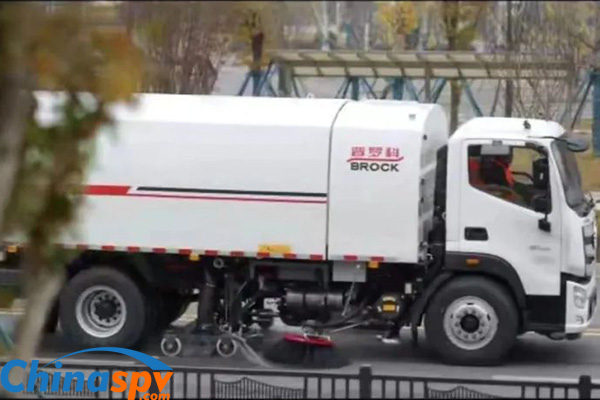 It is understood that the sweeping plate of the iBROCK single-engine washing and sweeping vehicle is actually a structural optimization and lightweight design technology. It uses ABS alloy, which has the advantages of light weight and no rust. Moreover, the sweeping plate adopts flexible obstacle avoidance and self-adaptive adjustment technology. It can achieve elastic collision and give way, and after bypassing the roadblock, it can continue to clean the road rubbish.

The iBROCK single-engine sweeper cancels the traditional auxiliary engine, uses the first electric single-engine technology in China, and adopts the top-mounted electric drive technology, which saves 30%-40% of fuel compared to the traditional sweeper.

The light weight has also been upgraded and optimized. The curb weight of the whole vehicle is less than 11T. Compared with the dual-engine model on the same platform, this vehicle can reduce the weight by 1.5T. Therefore, the iBROCK single-engine washing and sweeping vehicle is bound to carry out low-carbon and energy-saving to the end.
Source : www.chinaspv.com
Editor : Nancy
Views:2736
Poster Press to save or share