Sany Shines at Husum International Wind Energy Exhibition in Germany
September 27,2023
September 27, 2023, Germany, The 2023 Husum International Wind Energy Exhibition took place from September 12th to 15th at the Husum Exhibition Center in Germany. Sany Heavy Energy, representing Chinese wind turbine manufacturers, played a pivotal role as the main sponsor of the event, under the theme "Ensuring a sustainable future." The company focused on showcasing the highlights of its 919 platform products, intelligent manufacturing quality and efficiency advantages, as well as the comprehensive maintenance and operations service system it offers to global customers.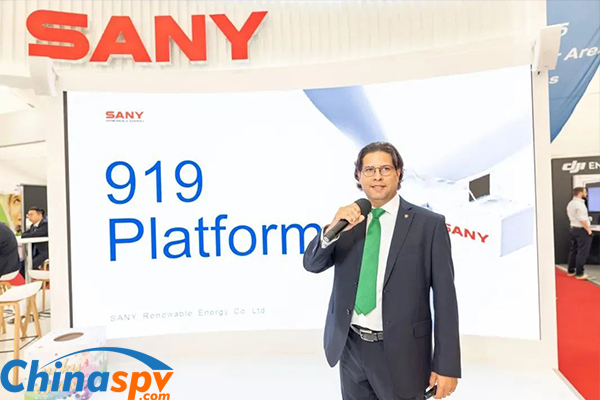 One of the standout moments at the exhibition was the unveiling of Sany Heavy Energy's 919 platform products. This platform takes Sany Heavy Energy's product modularity and standardization to new heights. The platform allows for the sharing of components such as hubs, main shafts, and front chassis across different turbine models. Additionally, blade, gearbox, and electrical systems are treated as modular units, offering a flexible range from 8.5 to 10 megawatts. This significantly enhances development efficiency and reliability. Moreover, an integrated main shaft system and gearbox design reduces nacelle size and weight.
With its rich product portfolio, Sany Heavy Energy attracted the attention of numerous international media outlets, including Recharge, Wind Power Monthly, Handelsblatt, Die Welt, and LEE NRW. These media outlets extensively covered Sany Heavy Energy's service advantages, global business development capabilities, product research and development, and production delivery strengths. This extensive coverage ignited a warm response within the global wind energy industry.
Source : www.chinaspv.com
Views:3162
Tags: Sany,Germany
Poster Press to save or share