Zoomlion's 100-Ton Extra-Wide Mining Truck Claims the Top Spot in the Industry
September 27,2023
September 27, 2023, China, In response to the growing demand for domestic production and the expansion of large-scale mining equipment in China, Zoomlion, a global leader in engineering machinery manufacturing, established a dedicated R&D team for extra-wide mining trucks. They were determined to create a top-quality extra-wide mining truck that would excel in terms of quality, technology, and operating cost, marking the beginning of a technological transformation in Zoomlion's extra-wide mining truck offerings.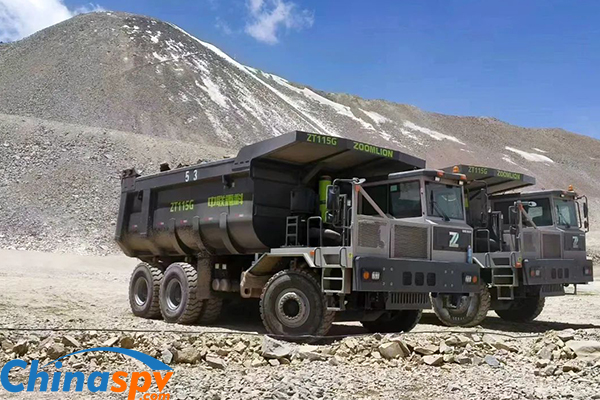 Leveraging their deep technical expertise, Zoomlion forged ahead with determination, swiftly elevating the performance of Chinese extra-wide mining trucks to a level comparable to Western rigid mining trucks.
Zoomlion made industry history by introducing the use of the high-performance Yuchai engine in their 100-ton-class extra-wide mining trucks. Through numerous technological improvements and the incorporation of cutting-edge technologies such as lightweighting, structural optimization, and transmission technology, Zoomlion's high-powered 100-ton extra-wide mining trucks have demonstrated outstanding performance, achieving power levels on par with rigid mining trucks in the same weight category.
Zoomlion's high-powered 100-ton extra-wide mining trucks boast formidable strength and exceptional uphill load-carrying capabilities. Under equivalent working conditions, they achieve speeds 15% higher than their predecessors and can complete 2-3 additional rounds per shift.
Zoomlion's 100-ton extra-wide mining trucks have outperformed the competition in all critical technical indicators, setting new industry standards and swiftly becoming a powerhouse and a favorite in the domestic and international mining transport sectors. They have truly become the benchmark for the extra-wide mining truck industry.
Source : www.chinaspv.com
Editor : Grace
Views:3021
Tags: Zoomlion
Poster Press to save or share