Forland builds international brand
May 15,2023
May 15, 2023, China, Forland, a key brand of Foton Motor Group, recently held its 6 millionth vehicle production milestone ceremony and new brand strategy release event in Zhucheng, Shandong, the birthplace of Foton. At the event, Forland showcased its future global strategy and delivered the 6 millionth commemorative truck to a Pakistani customer, pressing the accelerator on its path to becoming an international brand.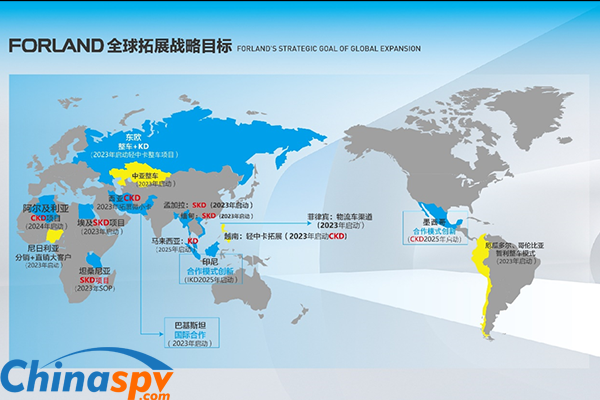 As an important part of Foton's dual-brand strategy since its inception in 1996, Forland has been a leading brand in the light truck industry. In 1999, it became the sales champion of the same type of vehicle and expanded into overseas markets. Over the past 24 years, Forland has regarded overseas markets as an important strategic growth market and has exported more than 200,000 vehicles to over 50 countries and regions through its global strategic layout.

With the changing global environment and overseas demand, Forland has accelerated its pace of overseas expansion and achieved remarkable results. In 2008, it entered the Southeast Asian market, where it held a market share of over 20% in Vietnam, ranking first in commercial vehicle sales. In 2013, it won the largest overseas order for Chinese light-duty dump trucks, with 2,000 units to Algeria. From 2016 to 2021, it has won the first place in the Myanmar market for four consecutive years. In 2021, it won the first place in Vietnam's light-duty dump truck sales, as well as in the export of light-duty dump trucks and four-wheel drive vehicles, and the first place in the sales of Chinese brand trucks in Pakistan. In 2022, it won the first place in West Asia's light-duty truck sales. With both product and marketing strengths, Forland has opened a new era of outward expansion.

American partners have expressed that they have been cooperating with Forland for five years and will expand their cooperation with the company in the future.

At the ceremony for the 6 millionth vehicle production milestone and new brand strategy release event, the 6 millionth vehicle was delivered to Pakistani customer Shahbaz, demonstrating global customer recognition of the Forland brand.

Forland will firmly develop a new pattern of global development, accelerate its overseas business, and promote the internationalization of the Forland brand with a new overseas strategy. In response to the unique demands of different overseas markets, Forland not only continuously introduces innovative products with technological upgrades but also provides a wide range of products such as light trucks, medium-duty trucks, heavy-duty trucks, engineering vehicles, and Vans to enrich its overseas product portfolio.
Source : www.chinaspv.com
Editor : Rosy
Views:2977
Tags: Forland
Poster Press to save or share