Auhawk sprinkler sets a new benchmark for high-end sanitation vehicles
March 20,2023
March 20, 2023, China, With the growth of market demand, sanitation products have developed rapidly. Recently, Auhawk Aumark released its latest high-end medium-sized sanitation product Auhawk sprinkler, bringing a high-reliability, high-comfort, high-safety, and a fully upgraded product with excellent service.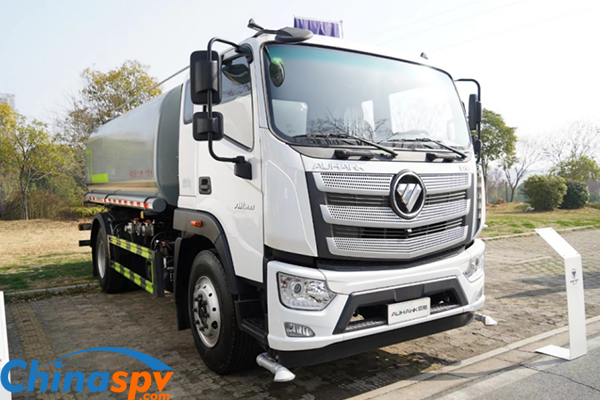 The Auhawk sprinkler launched this time adheres to Auhawk 's consistent high-end quality. Its core power chain uses Yuchai's 200-horsepower engine + Fast 8-speed gearbox + rear axle with long maintenance intervals. Created by Foton's PDIC Power Integration Innovation Center Integrated construction, it is an integrated power solution specially designed for sprinklers.

Yuchai engine is the representative of domestic top engines, with excellent product stability, reliability, and fuel-saving performance. It is also professionally adjusted for low-speed and high-torque according to the needs of sprinkler trucks, which greatly improves transmission efficiency and economy, and fully meets the operation requirements of sprinkler trucks. Coupled with the super-long oil change rear axle, it can ensure that the vehicle can work stably for a long time.

Auhawk sprinkler adopts H-shaped high-strength body, and the overall structural strength meets the current most stringent ECE R29-03, JT/T 1178.1 and other body strength regulations. After a violent collision, the cab moves back 200mm as a whole, which has a buffering effect on the collision force of the vehicle and fully guarantees the safety of the driver.

With the support of the excellent chassis, Auhawk is more active in linking with well-known bodywork companies in the industry, and with the concept of "integration of chassis and bodywork", it brings more functions to Auhawk sprinklers and better meets the needs of sanitation operations in multiple scenarios .

With its excellent product performance, high-quality service guarantee and perfect function, the launch of Auhawk sprinkler creates a new benchmark for the high-end sanitation vehicle market, accelerates the category of sanitation cleaning vehicles to high-end, and brings more excellent equipment for urban sanitation . In the future, Auhawk will continue to adhere to the concept of "integration of chassis and top-body", and while promoting the performance upgrade of sanitation equipment, it will continue to enrich the product line of sanitation equipment, so that more users can feel the charm of high-end sanitation equipment.
Source : www.chinaspv.com
Editor : Alice
Views:2898
Tags: Auhawk sprinkler
Poster Press to save or share