Mercedes-Benz Trucks and XCMG Fire Fighting join hands to lead the future
March 14,2023
March 14, 2023, Xuzhou, China, On March 3, Daimler Trucks and Buses (China) Co., Ltd. and XCMG Fire Safety Equipment Co., Ltd. held a signing ceremony in Xuzhou. The two parties will further develop cooperation and innovation in fire protection based on the latest generation of Mercedes-Benz trucks, Arocs, to provide customers with complete and systematic solutions. After the signing ceremony, the two parties held a product technology seminar to discuss in depth the technical implementation details of future new products and customized modification technical solutions.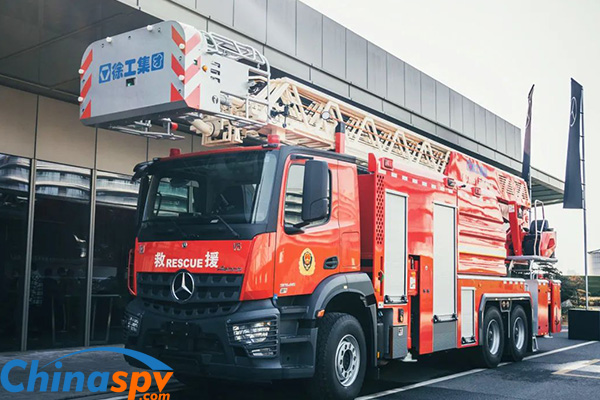 Daniel Zittel, CEO of Daimler Trucks & Buses (China) Co., Ltd., said, "Mercedes-Benz Trucks has served China's fire protection industry for nearly 30 years with rich experience in the field of fire trucks and established close cooperation with domestic fire protection professional modification manufacturers. This in-depth cooperation with XCMG Fire Protection is a milestone. We will develop more new products that lead the development of the industry, so as to promote the further development of the fire emergency rescue industry."

As a leading brand in China's fire truck field, XCMG Fire Protection has unmatched hard-core strength in many aspects such as research and development, production, and sales of special fire trucks and aerial work platforms.

It is understood that the two parties have cooperated for a long time, dating back to 1995 at the earliest. At that time, the CDZ53 climbing platform fire truck released by XCMG Fire Protection was modified based on the Mercedes-Benz SK series 2631 model. As soon as this vehicle came out, it broke a number of records. As the "highest in Asia" at that time, it filled the gap in China's fire trucks with a climbing platform above 50 meters. This is not only a proof of XCMG's fire protection scientific research strength, but also a long-term witness of the friendship between the two parties.

With more than 100 years of historical accumulation, Mercedes-Benz trucks have performed well in many industries such as fire protection, engineering, construction, and residences, relying on their world-leading technical strength, reliable product quality, and people-oriented car-making spirit. Facing the vast market space of China's fire truck industry, Mercedes-Benz Trucks will rely on its rich experience in the field of fire protection at home and abroad, strong product strength and perfect service system, and work closely with many refitting factories to maintain constant professional quality to meet ever-changing needs.

With the signing of this agreement, the cooperation between the two parties will be further expanded to product research and development and vehicle collaborative manufacturing. The two companies will make full use of their respective resources, skills and experience, actively explore and move forward hand in hand. As the focus of the next cooperation, a brand-new fire truck product will be launched soon. It will be modified based on the latest generation Arocs chassis, equipped with the most powerful engine OM 473 of Mercedes-Benz trucks, with a maximum horsepower of 630hp, to ensure enough power for the upper body part. This will further promote technological innovation and breakthroughs in the fire-fighting vehicle industry to meet the needs of product diversification in the fire-fighting field.
Source : www.chinaspv.com
Editor : Rosy
Views:2807
Tags: Mercedes-Benz XCMG
Poster Press to save or share