41 Iveco Daily chassis ambulances delivered to Guangzhou
September 18,2023
September 18, 2023, Guangzhou, China, On September 12th, a ceremony was held in Zhuhai to mark the on-site delivery of 41 imported Iveco chassis Pengyu high-performance cabin-pressured ambulances. These batch of negative pressure ambulances were procured by the Guangzhou Emergency Medical Center and are constructed using the imported Iveco New Daily 4.5-ton chassis. This product, built upon the excellent performance of the imported Iveco chassis, incorporates professional mobile medical treatment unit manufacturing technology, making it an outstanding high-end emergency mobile medical ambulance.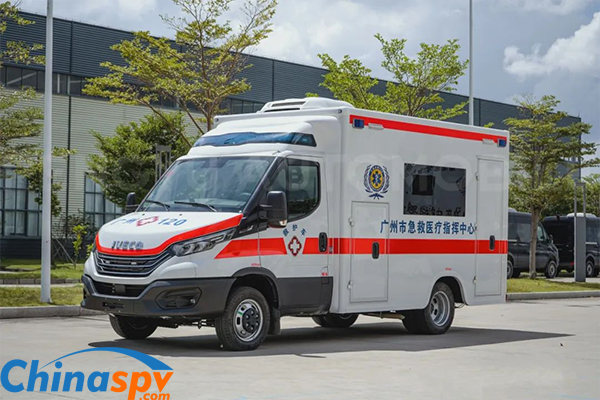 The imported Iveco chassis is equipped with an F1C 3.0T diesel engine, paired with an 8-speed automatic transmission by ZF, delivering a maximum power of 180 horsepower and a maximum torque of 430 Newton-meters, providing swift power response and improved combustion efficiency, resulting in robust performance.
Furthermore, the imported Iveco chassis comes equipped with advanced driver assistance systems, achieving significant advancements in both autonomous driving and safety. Not only does it reduce the risk of accidents while driving on highways and busy city streets, but it also assists drivers in handling complex traffic conditions with ease.
The imported Iveco chassis features an electronic power steering system that adjusts according to the vehicle's speed, saving the driver up to 70% of their effort and reducing fuel consumption by 1.5%.
This marks a significant development in the field of emergency medical transport, showcasing the fusion of cutting-edge imported Iveco chassis technology with specialized mobile medical treatment capabilities.
As a renowned commercial vehicle brand, Iveco has consistently excelled in the field of vehicle customization. With its outstanding load-bearing capacity, reliability, and a wide range of product offerings, the Iveco chassis has always been the preferred choice for high-end ambulance customizations.
Source : www.chinaspv.com
Editor : Grace
Views:2505
Poster Press to save or share