Successful Delivery Ceremony of 100 XCMG New Energy Tractors
September 14,2023
September 14, 2023, Shanxi, China, Recently, a successful delivery ceremony for 100 XCMG new energy tractors was held in Changzhi, Shanxi, injecting new vitality into green transportation in Shanxi and opening a new chapter in the transformation and upgrading of transportation in the province.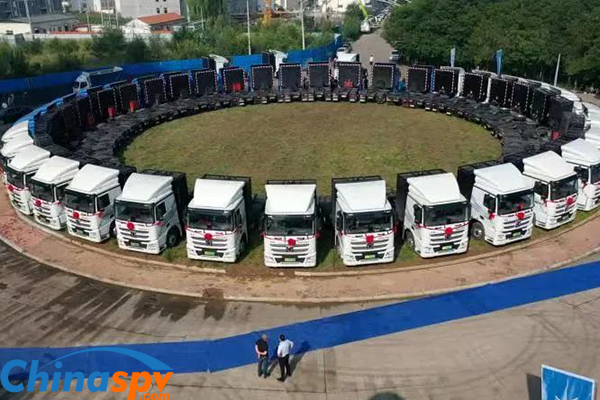 During the delivery ceremony, XCMG New Energy made a solemn commitment to provide 24-hour on-site service to ensure customers' peace of mind. Customers expressed strong expectations for future cooperation, noting that XCMG New Energy heavy-duty trucks demonstrate exceptional performance on uphill roads.
Since the second half of this year, XCMG New Energy heavy-duty trucks have been delivered on a large scale in various regions, including Hunan, Zhejiang, and Sichuan. They have won high trust from customers due to their outstanding product quality, comprehensive green financial solutions, and thoughtful after-sales service.
XCMG New Energy electric tractors are equipped with a high-power permanent magnet synchronous motor independently developed by XCMG, with a peak horsepower of up to 558 PS and a motor utilization rate of up to 97%. The multi-gear adjustable energy recovery system adjusts in real-time based on road gradients, improving energy recovery efficiency and significantly reducing overall electricity consumption, thereby helping customers reduce operating costs.
It is worth noting that from January to July this year, XCMG Automotive consecutively ranked first in the industry in terms of new energy heavy-duty truck sales, new energy electric dump truck sales, and new energy tractor sales. XCMG Automotive is leading the industry and injecting new momentum into the green transformation of the transportation industry, further propelling cities toward a cleaner future.
Source : www.chinaspv.com
Editor : Alice
Views:2898
Tags: XCMG New Energy Tractors
Poster Press to save or share