SANY Electric Heavy Trucks Delivered in Bulk
September 13,2023
September 13, 2023, China, In early autumn, SANY electric heavy trucks have been busy with deliveries once again! Major customers in Shanxi and Guizhou are leading the way in green transportation transformation by choosing the SANY electric heavy truck brand.
In May of this year, a major customer in Shanxi purchased 5 units of SANY flat-roof electric heavy trucks, model 282EV, for sand and gravel transportation. These trucks have been achieving daily mileage of over 500 kilometers per vehicle. The flat-roof electric heavy trucks are well-recognized for their exceptional energy efficiency and stable product performance, resulting in significant cost savings and improved efficiency after just over a month of operation.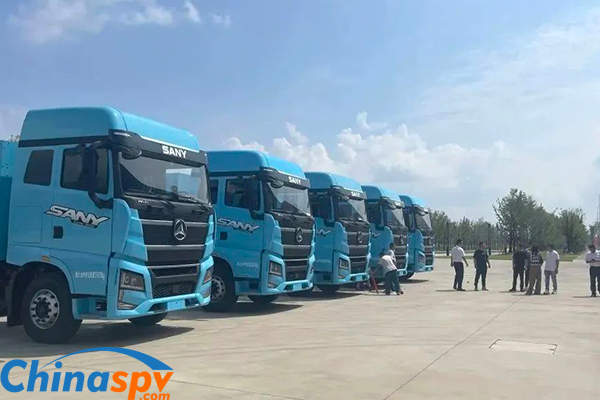 At the end of June, the same Shanxi customer decided to repurchase 25 SANY electric heavy trucks without any hesitation. Thanks to their impressive operational performance and excellent product capabilities, the flat-roof electric heavy trucks have been dubbed the "most profitable electric heavy trucks." Since their deployment, a total of 30 units have been in operation for two months, resulting in a more than 20% reduction in operating costs for the company.
Currently, all 50 units of the 282EV flat-roof electric heavy trucks have been put into operation. Users are actively undergoing a green transportation transformation, contributing to local project construction, cost reduction, efficiency improvement, and green low-carbon operations in the logistics industry.
At the end of August, the first batch of 5 units of SANY EV550 electric heavy trucks with 350 kWh batteries were officially delivered to a major customer in Guizhou.
The customer's demand for green transportation business has been growing, and they urgently needed a batch of electric traction trucks. After comparing and evaluating multiple brands, SANY, as a leading brand in new energy heavy trucks, gained customer recognition in terms of product performance, energy consumption, and after-sales service.
The best-selling model, the 350EV EV550, offers excellent compatibility with various short-haul transportation scenarios, including steel, coal, ports, and sand and gravel, with a standard range exceeding 200 kilometers. With one charge, it can basically handle a full day of transportation operations.
Source : www.chinaspv.com
Editor : Alice
Views:2653
Tags: SANY
Poster Press to save or share