XCMG's HB40V Concrete Pump Truck Operated in Tajikistan
September 12,2023
September 12, 2023, Tajikistan, Recently, XCMG's HB40V concrete pump truck made its appearance in Tajikistan, contributing to the construction of Phase II of the China-Tajikistan Highway.
This project is situated on the Pamir Plateau, with an average altitude of over 4,500 meters. It faces tremendous construction challenges, including a long construction distance, rugged terrain, weak infrastructure, and several sections with fragile tunnel rock layers, posing risks of landslides and collapses. XCMG's HB40V concrete pump truck, with its advantages of safety, energy efficiency, stability, and reliability, successfully overcame the challenges of this complex terrain, demonstrating its prowess in the rugged mountains.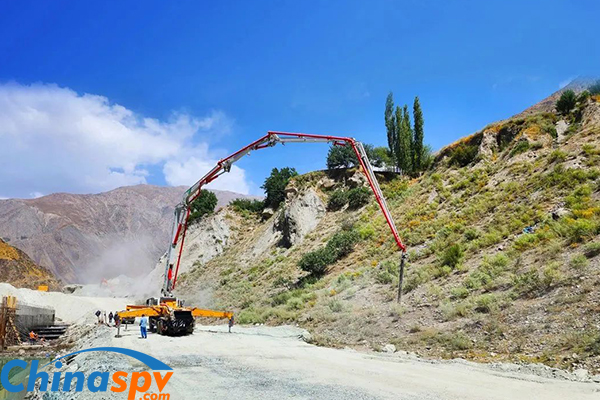 The XCMG HB40V concrete pump truck is equipped with features such as a low-angle center pump, a high-power engine, and a large-diameter climbing pipe. It boasts enhanced power, allowing it to operate effortlessly in high-altitude regions. Additionally, it comes with intelligent boom control and MPS directional buffering, minimizing machine sway, providing precise control, and ensuring stable concrete pumping.
To ensure the project's smooth execution, XCMG service engineers arrived at the site before the project began. They provided hands-on training to local pump operators, improving their operational skills, and received unanimous praise from our clients and project team.
It's worth noting that the Phase II project of the China-Tajikistan Highway is the largest single-project grant from the Chinese government to Tajikistan in recent years. It is expected to be officially opened to traffic in 2026 and will significantly improve road connectivity between China and Tajikistan, promoting economic and trade development between the two countries.
In recent years, XCMG's concrete machinery has been making continuous efforts in international markets, with its market share steadily rising. XCMG has exported its equipment in large quantities to regions such as Central Asia, Africa, South America, and Southeast Asia. It has also participated in major projects such as the Padma Bridge in Bangladesh, the New Administrative Capital in Egypt, and the China-Laos Railway, earning the favor of customers worldwide.
Source : www.chinaspv.com
Editor : Alice
Views:2589
Tags: XCMG
Poster Press to save or share