SANY Brazil's excavators in São Paulo Metro Silver Line Extension Project
March 17,2023
In November 2022, construction began on the expansion of Line 15 Silver of the São Paulo Subway, the capital of the state of São Paulo. The initial investment for this project is approximately R$ 1.8 billion, which includes the construction of a new stretch, two modern stations, and a parking lot. The project is scheduled for completion by mid-2025.

Once completed, around 90,000 people will benefit daily, with their travel time from the Far East to the center of São Paulo reduced by up to 50%. This construction is a significant development that will change the reality of urban mobility in a region that has suffered for a long time due to the absence of good and efficient public transportation.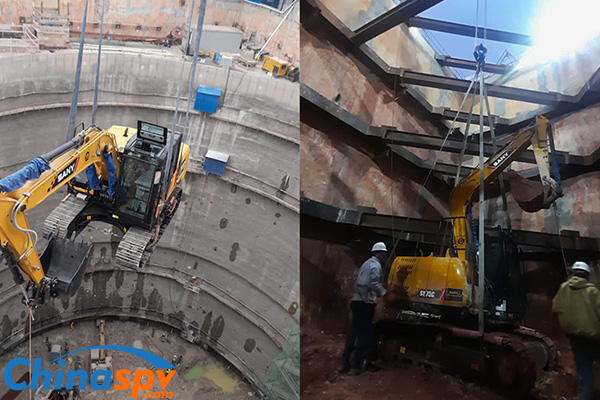 The construction began with the concreting of the beams that the trains will pass through, as well as the demolition of expropriated properties in the area of the future Boa Esperança station (named after the neighborhood). Currently, 11 SANY Excavators are working at the construction site, including 2 SY36U, 4 SY75C, and 5 SY135U.

The SY36U and SY75C Excavators are lightweight and minimize damage to the soil layer they come into contact with, thanks to their movement through mats, which allows for more stability than tire-based equipment. Their size and weight also make them easy to move and dig, in addition to consuming less fuel. These machines also have advanced and powerful hydraulic systems, which can perform a 360-degree turn, enabling them to move more materials without repositioning and without the rear of the machine leaving the belt.

The Excavator SANY SY135C is a more robust machine compared to the others and provides plenty of power for demanding excavation lifts. Its ergonomic design and fuel economy make it a standout option, with low engine noise levels. The SY135C transforms engine power into hydraulic power, which, in turn, is transformed into lifting power and applied to the arms, boom, and bucket drive.

Currently, Line 15-Silver of the São Paulo Subway has 14.6 km and 11 stations, including a bike path and landscaping throughout its length. The expansion project will add another 3 km to the line, including 2 stations, to meet an estimated demand of 480 thousand passengers per day. The subway is also bidding on expanding to another important neighborhood of São Paulo, which will add another 1.8 km and a new station.
Source : www.chinaspv.com
Editor : Alice
Views:3231
Tags: SANY Brazil
Poster Press to save or share