Weichai shines at the Middle East International Power Exhibition
March 17,2023
March 17, 2023, Dubai, UAE, From March 7th to 9th, the Middle East International Power Exhibition, one of the most influential exhibitions in the global power energy field, was held in Dubai, UAE.

A number of high-end brands under Weichai appeared, and 8M33 high-end power was newly released.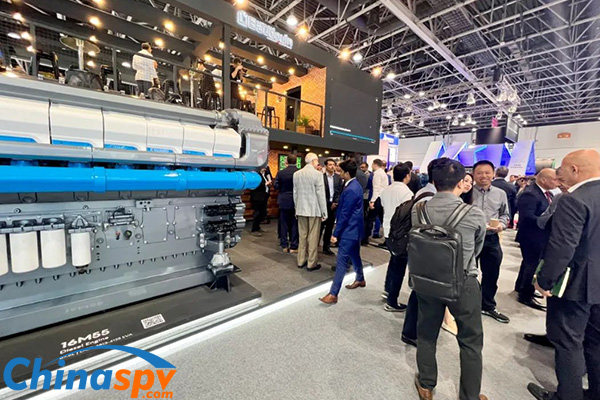 At the event site, the 8M33 engine was released for the first time at the Middle East International Power Exhibition. As a representative of the high-end power of the Baudouin brand, it has attracted a lot of attention.

High-pressure common rail fuel system is adopted, with a displacement of 26.1L, covering 800~1125kVA.

Self-developed ECU ensures more reliability, smart and safety.

The gas distribution structure is strengthened to meet the requirements of high power reliability

The weight is lighter due to the use of plastic fans, weight-reducing flywheels and brackets, small-volume patented radiators, etc.

Baudouin 16M55 high-end power unit condenses the advantages of century-old French quality and advanced manufacturing in China. It adopts advanced high-pressure common rail fuel injection technology, high-efficiency and high-pressure intake system, high reliability and low fuel consumption. It is a high-power high-speed power station, which has reliable power for data center companion applications.

At the exhibition site, American PSI gas engines and Weichai lithium battery energy storage devices were also unveiled together. In particular, lithium battery energy storage devices have performance advantages such as super safety, long life, high integration, fast start, and ultra-low energy consumption, providing customers with low-carbon, high-efficiency power solutions.

In recent years, Weichai has leveraged the synergistic effect of its French Baudouin and American PSI brands to establish a leading competitive advantage in the mid-to-high-end markets in Europe and the United States, and continue to lead the new direction of global high-end market power energy.
Source : www.chinaspv.com
Editor : Grace
Views:2814
Poster Press to save or share