Hongyan LNG heavy trucks help achieve low-carbon and efficient transportatation
March 16,2023
March 16, 2023, Xinjiang, China, Lately, at the unveiling ceremony of the Xinxing City Automobile Industrial Park, SAIC Hongyan completed the signing of 1,000 units and the delivery ceremony of 600 units with customers in Hami, Xinjiang, bringing a more low-carbon and efficient operation plan for coal transportation in Xinjiang.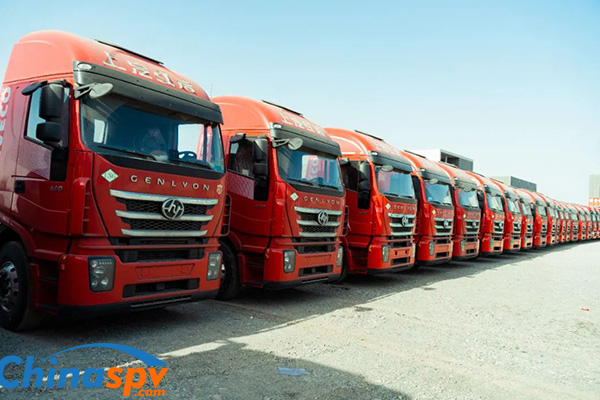 Hongyan Genlyon C6 LNG tractor is equipped with SAIC Power LNG engine, with a maximum horsepower of 440Ps and a maximum torque of 1950N·m, which can quickly release strong power and has strong confidence even in the face of harsh roads, making coal mine transportation safer and more efficient.

In addition, advanced equivalent combustion technology is adopted to effectively reduce power loss. Compared with lean combustion technology, the power of the vehicle is increased by 23%, which can not only meet the needs of efficient transportation, but also meet the national VI emission standards.

The cab of Hongyan Genlyon C6 LNG tractor provides maximum protection to drivers with super tightness, and minimizes adverse effects on the body.

Hongyan Genlyon C6 LNG tractor has been upgraded in an all-round way in terms of light weight, using new materials and new processes, which can reduce the weight of the vehicle while ensuring quality.

It matches the lightest T20N suspension and HY440 axle in the industry. The high-strength and lightweight frame and leaf spring structure are applied, and the transmission, front wheel steel ring, frame support and other components are made of aluminum alloy. The self-weight of the chassis is reduced by more than 700kg.
Source : www.chinaspv.com
Editor : Mark
Views:2831
Tags: Hongyan LNG
Poster Press to save or share