Foton Brock new energy sanitation vehicle successfully delivered to Yunnan
March 15,2023
March 15, 2023, Yunnan, China, Recently, Foton Brock new energy sanitation vehicles were successfully delivered to Dali, Yunnan. The batch of vehicles covers pure electric washing and sweeping vehicles, pure electric compression garbage trucks, pure electric low-pressure cleaning vehicles and other models.

As a high-end leading brand in the environmental equipment industry, Foton Brock has been committed to taking new energy as the most important business, and insists on improving the level and efficiency of environmental sanitation work with high-quality products and services.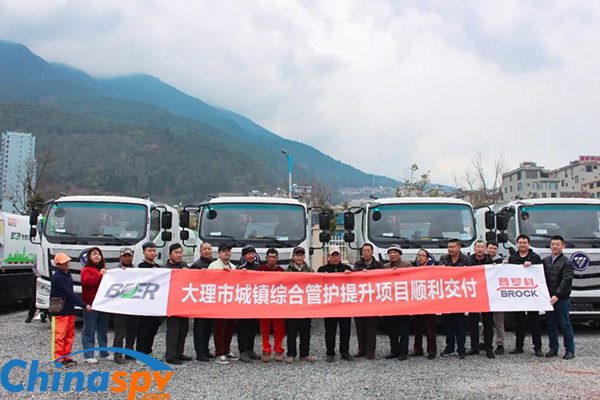 The vehicles delivered this time all use the special chassis of Foton pure electric sanitation vehicles, which have passed the 300,000-kilometer reliability test verification. The transmission efficiency of the pure electric sweeper is increased by 15%, the maintenance cost is reduced by 20%; the cleaning efficiency is increased by 10%; at the same time, new materials and new technologies are adopted, and the weight is reduced by more than 5% compared with similar products. The whole vehicle is equipped with multiple safety protection devices and a low water level alarm system, which can effectively prevent the water pump from being damaged due to water shortage or overspeed. Equipped with disk scanning automatic obstacle avoidance and automatic adjustment technology, basic functions and driving can be operated with one button, making it smarter and more efficient. The newly upgraded pure electric sprinkler is more suitable for spraying and watering operations in urban main roads, green belts, city squares and other places, and can also be used for auxiliary fire protection and non-drinking water transportation.

Since its establishment, Foton Brock has continuously carried out technological innovation and product upgrades, helping the urban environment to be clean with professional strength and excellent products, and at the same time providing comprehensive service guarantees.

In the future, Foton Brock will live up to its great trust and shoulder the mission of protecting the green and beautiful city of Dali, retaining the most beautiful scenery for citizens and tourists, and allowing them to appreciate the refreshing natural scenery.
Source : www.chinaspv.com
Editor : Eric
Views:3044
Poster Press to save or share