Senyuan Homa catering security vehicle unveiled in Liaoning
March 15,2023
March 15, 2023, Liaoning, China, On March 8, the Senyuan Homa catering security vehicle was officially deployed to the front line of emergency response in Liaoning.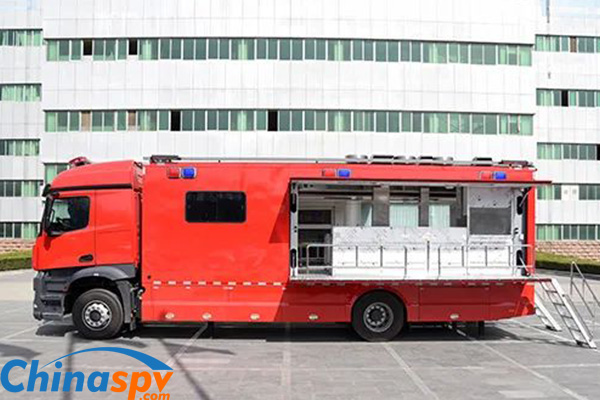 Senyuan Homa catering security vehicle is refitted with a Mercedes-Benz chassis, which has strong power and is suitable for various areas such as cities, villages, and mountains. It has strong off-road performance and meets the needs of field operations in complex environments. It provides a flexible and changeable logistical support mode based on different conditions of troops, personnel conditions, fire conditions and climates, which is fast, maneuverable, convenient and flexible. The catering security vehicle has the functions of cooking, providing hot water, and transporting heated dishes; at the same time, it is equipped with a range hood system to discharge the smoke to keep the air fresh at any time; all the operating rooms in the vehicle are covered with stainless steel. The vehicle is equipped with closed-combustion fuel-saving energy-saving pots, stoves, vegetable cutters, freezers and other cooking support equipment, which can satisfy 200 people's food and drinking water supply within one hour at the same time, and can complete cooking, stewing, boiling water and other work can effectively improve the security efficiency.

After the catering security vehicle is in place, the field food support capability of the emergency response team will be significantly enhanced, providing strong food support for the completion of large-scale, cross-regional, and complex combat and rescue missions.
Source : www.chinaspv.com
Editor : Rosy
Views:2702
Poster Press to save or share