Weichai engine assists transportation of coal across China
February 01,2023
February 1, 2023, China, A few days ago, 100 units Shacman natural gas carrier trucks equipped with Weichai WP13NG+WP15NG engines were delivered to major customers in Ningxia. This batch of carrier trucks was jointly developed by Weichai and Shacman, tailor-made for the Xinjiang coal transportation market, and set a new benchmark for the coal transportation artifact.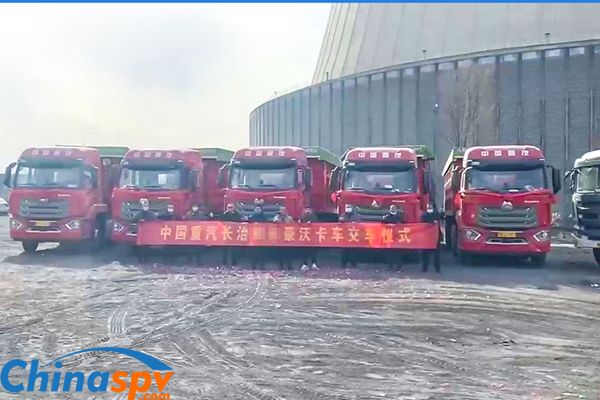 Thanks to the advantages of product collaborative development and design, Shaanxi Automobile's heavy trucks equipped with Weichai natural gas engines save 2-3kg of gas consumption per 100 kilometers compared with mainstream competitors, and are favored by customers. At the delivery ceremony, major customers signed strategic cooperation orders for 500 units.

In Longgong Port, Jining, Shandong, 30 units SINOTRUK HOWO tractors equipped with Weichai WP10.5H engines were delivered and put into operation to help customers implement the "road-rail-water combined transport" mode.

This batch of vehicles has extremely high requirements on the attendance rate and needs to meet the daily operation of more than 1,000 kilometers. The main frame of the Weichai WP10.5H engine is designed with reinforcing ribs and an integral forged steel structure crankshaft, and the B10 life span reaches 1.8 million kilometers. The engine economy also satisfies customers, and the comprehensive fuel consumption is more than 3L lower than that of competing products.

In Shanxi, customers engaged in coal transportation have purchased Sinotruk tractors equipped with Weichai WP10.5H engines in batches.

Many local people in Shanxi are engaged in the business of transporting coal from mines to coal washing plants. Generally, the trip does not exceed 100 kilometers, and the road surface is basically dirt and potholes. The Weichai WP10.5H engine has a maximum torque of 2100N m, strong explosive power, high safety and reliability, and can easily cope with harsh transportation scenarios; at the same time, the whole machine adopts a lightweight and modular design, which greatly reduces the weight of the whole machine, allowing the trucks to create more value for customers.
Source : www.chinaspv.com
Editor : Grace
Views:2952
Tags: Weichai engine
Poster Press to save or share