45 Yutong school buses operated in Jiangmen City, Guangdong Province
January 31,2023
January 31, 2023, Guangdong, China, Recently, 45 units Yutong school buses were put into operation in Jiangmen, Guangdong, which will become an important part of the commuting service, providing safe, comfortable and convenient transportation services for more than 3,700 students in 24 schools in 13 towns in Jiangmen City.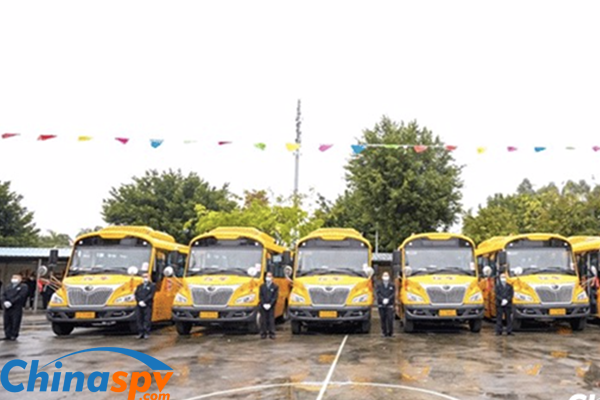 The Yutong third-generation special school bus, which will be put into operation, has pushed the industry standard to a new level in terms of product safety and intelligence, and can guarantee the safety of students in all aspects. Huang Weixiang, deputy director of Kaiping Education Bureau, spoke highly of Yutong's school bus at the launching ceremony: "Yutong's school bus has high safety standards and advanced configurations, which can well meet the government's requirements for school bus safety and comfort. Students have better security in and out of school."

The operation of the brand-new school bus in Jiangmen has also received strong support from the government departments of Jiangmen City and Kaiping City. Under the overall planning of the Kaiping Municipal Party Committee, the Municipal Government and the Kaiping Municipal Education Bureau, school bus operators can synchronize information with the education department and schools in a timely manner according to each route and the number of students, and create a flexible operation plan to ensure that every student goes to school on time and get home safely. Yutong school buses take a leading position in China in terms of safety performance and intelligence, which will help better complete school bus operations.

As the pioneer and advocate of special-purpose school buses in China, in the future, Yutong will focus on the school bus industry, devote itself to protecting the healthy growth of school children, and help the whole society continue to move towards a better future. Safe and reliable school bus products are the best "gift" for children in the new semester, and they will further promote China's education modernization process and public transportation safety construction to a higher level.
Source : www.chinaspv.com
Editor : Grace
Views:2769
Tags: Yutong school buses
Poster Press to save or share