XCMG's complete sets of port machinery exported to overseas market
January 16,2023
January 16, 2023, On the morning of January 12, the complete sets of port machinery in the high-end intelligent manufacturing base of XCMG sailed out to the world to welcome the new year.

At the departure ceremony, Liu Jiansen, vice president of XCMG Machinery, said that in 2022, the internationalization of XCMG port machinery has achieved outstanding results. It has achieved sales in more than 40 countries and regions of the world, achieved a leapfrog breakthrough in the markets of countries along the "Belt and Road" and doubled the export value.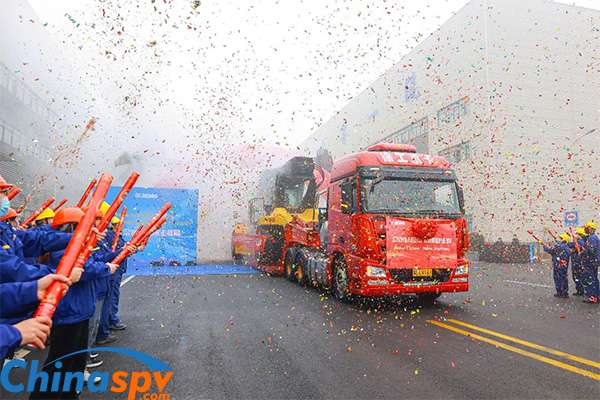 In 2023, we will continue to promote the implementation of the main strategy of internationalization, conduct in-depth research on the working conditions of the overseas port machinery market, accurately explore the core value of products, deepen overseas cooperation, and use high-quality port machinery products to open up the international markets and escort high-quality development for foreign trade."

The main highlights of this departure equipment are mass production, customized models, and multi-functions. The products cover reach stackers, counterbalanced forklifts, telescopic forklifts, etc., and will be used in global ports, railway mines, and logistics bases, etc. to inject strong impetus into the development of global container freight.

In the future, with the continuous upgrading of product technology, more XCMG port machinery will enter the international stage and open a new chapter of development.
Source : www.chinaspv.com
Editor : Nancy
Views:2767
Tags: XCMG port machinery
Poster Press to save or share