500 units SAIC Hongyan fire trucks set off for Central Asia
January 16,2023
January 16, 2023, Kazakhstan, Recently, the launching ceremony of 500 units SAIC Hongyan fire trucks exported to Central Asia was grandly held. The high-quality fire trucks made in China are about to leave the country and set off for Kazakhstan. With their strong power, professional performance and reliable quality, these fire trucks will contribute to fire protection in forests, oil fields and airports in Central Asia, and become the firefighters to provide solid support of hardware level and fire accident response ability.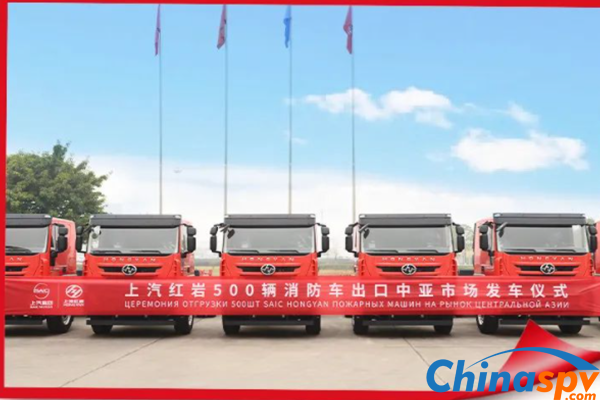 The reliability, stability, and power of a fire truck will directly affect the personal safety and work efficiency of firefighters. The chassis of the 500 units Hongyan 6×4 fire trucks delivered this time has been specially adjusted to fully meet the transportation needs of different local firefighting scenarios in Kazakhstan. It is aimed at the transportation of non-paved ground such as oil fields and forests in Kazakhstan according to demand. Moreover, these Hongyan fire trucks have been upgraded in terms of power performance. They are equipped with a Cusor 13-liter engine with a maximum horsepower of 480Ps. The continuous output of strong power can easily cope with various road conditions. In particular, this model is also matched with the Fast 12-speed overdrive gearbox, which is convenient to control and accelerates. Its excellent acceleration performance allows firefighters to quickly arrive at the rescue scene. Even in the severe cold environment below -30° in Kazakhstan, the engine responds instantly and rushes to the front line of rescue at any time.

In recent years, SAIC Hongyan has actively responded to the national "One Belt, One Road" strategy, actively "going out" and developing the global market. SAIC Hongyan fire trucks are well received by users at home and abroad for their excellent quality and cutting-edge product research and development capabilities, and have injected Chinese strength into the international fire protection industry. Previously, SAIC Hongyan fire truck products had been delivered to Papua New Guinea in batches to help the APEC leaders meeting held in the same year; it was also exported to Dominica, and attended as a fire truck representative at the military parade celebrating the 175th anniversary of Dominica's independence. This time the export of SAIC Hongyan fire trucks to Kazakhstan have once again verified the strength of the products manufactured by Hongyan and created a good reputation for going international.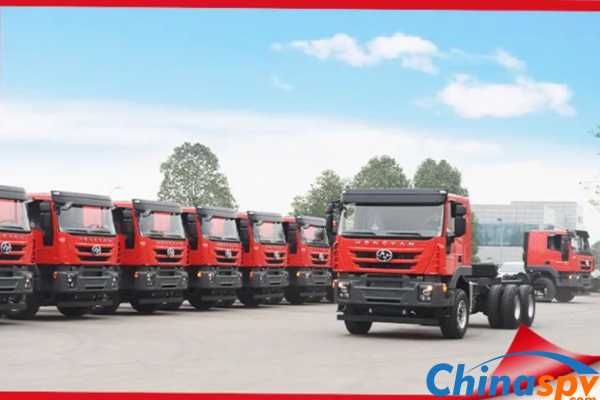 The export of Hongyan fire trucks to Central Asia has successfully allowed the Chinese fire trucks to be exported to more countries. While China's heavy truck equipment helps improve local fire fighting and rescue capabilities, it will further promote the local fire emergency rescue level in Kazakhstan, adding Hongyan strength to ensure the safety of local citizens' lives and property, and also build friendly relationship between the two countries.
Source : www.chinaspv.com
Editor : Alice
Views:2887
Poster Press to save or share