The Future of Construction: Intelligent System Solutions by ZF
June 23,2022
The construction industry is about to see massive changes, driven by volatile markets, economic uncertainties, and governmental regulations, demanding high flexibility and fast development cycles. At bauma Munich, ZF proves that as a specialist in driveline technology and intelligent system solutions, the Group is the ideal partner to meet these demands. With future-proof driveline solutions in the field of electrification and alternative fuels, as well drive systems for higher efficiency, ZF contributes to reduced emissions, higher productivity, and a higher degree of safety at construction sites.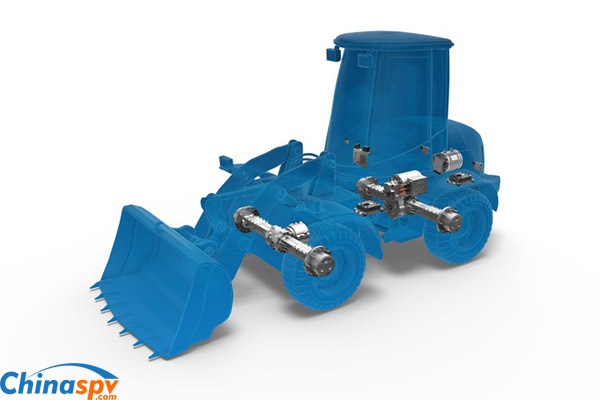 Comprehensive and intelligent system solutions, thoroughly matched to each other: This is the company´s answer to the challenges the industry is facing today more than ever.

Electrification – zero emissions and maximum performance

The eTRAC electric drive system satisfies all the expectations for performance and productivity found in traditional drivelines and combines them with the extensive benefits and opportunities that electric systems have to offer. Thanks to its modular design this new range of electric central drives can easily be adapted for various vehicle applications.

Zero emissions without compromising on performance
Low noise level
Efficient electrical components
Robust and reliable mechanical driveline
Compact installation space

E-mobility solutions for compact vehicles such as loaders, site dumpers or telehandlers are the first to enter the construction equipment market, especially in urban or emission-regulated areas. The eTRAC driveline system with its range of 48/96/650-volt e-motors developed by ZF provides the necessary emission-free drive. Additionally, the Group also acts as system supplier (fig. 1). It not only supplies the electric drive, but also offers a combination of front and rear axles, inverters and an eDCU (Electric Drive Control Unit). This best-in-class solution achieves the same output as conventional drivetrains, without compromising on performance factors such as traction and end speed.

A newly launched system for mobile excavators consists of a 2-speed powershift transmission, electric motor, and inverter (fig. 2). It can be scaled up to peak torque 850 Nm and continuous power of 80 kW. Three power classes of the electric central drive system eCD50, eCD70 and eCD90 are available to cover different vehicle sizes in the targeted applications. The electric central drives can easily be adapted for various vehicle applications like backhoe loaders, telehandlers, or forestry equipment. To complete the customers´ demand, not only in regards of traction drive, ZF also offers the so called ePTO, e.g., to run the working hydraulic.

To complete the range of electric drives for larger construction vehicles, ZF is offering the eTRAC eCD110-210 series for mid-sized wheel loaders, consisting of an electro-mechanical powershift transmission and one e-motor for traction and ePTO each. An electric drive control unit for overall system performance and power management completes the system (fig. 3). With a 650 V operating voltage, the system can be scaled up to 120 kW continuous power; the ePTO ranges from 30 to 70 kW continuous power. Thanks to its modular design, the system can be integrated in various other vehicle applications as well and can be driven independently from the power source. The company´s solutions fit in both battery-electric vehicles and fuel-cell battery electric vehicles, which will also play a big role in the future of construction machineries.

Ready for decarbonization through highest efficiency – ZF cPOWER

In addition to future-oriented e-mobility solutions, a transition towards low carbon fuels can be observed on the market, when it comes to decarbonization of construction machinery. Depending on the vehicle´s size and energy demand, different energy sources are possible. Whilst batteries are a suitable source for electric compact and medium vehicles, alternative fuels are a promising power source for medium and large size vehicles to reduce their CO2 footprint.

Efficiency will play an even more important role in the future. This is due on the one hand to steadily rising energy costs, on the other hand to a lower energy density of alternative fuels which in turn, require higher storage volumes.

Despite all the different power sources entering the market recently – be it hydrogen, eFuels or, for example, bio-diesel – conventional drives with powershift and power split transmissions will remain to be the backbone of the vehicle´s system architecture.

No matter the power source, conventional diesel, alternative fuels, or electrification: ZF is more than up to these challenges. With the well-established ERGOPOWER powershift transmission as well as highly efficient cPOWER CVT technology ZF can provide the right driveline technology, independent from the power source.

Considering calls for sustainability, fuel savings of up to 15% are already possible with the hydrodynamic technology ZF ERGOPOWER. To meet the increasing demands for reductions in fuel consumption and higher productivity, ZF has established the fully power-split CVT technology cPOWER on the market. This leads to fuel savings of up to 25% compared to standard ERGOPOWER drives. If cPOWER is combined with the ZF EFFICIENCY PACKAGE, fuel savings increase by another 5%.

Smart Construction – environment perception

Ideally, the future of construction should not only be climate neutral, but it should also operate safely and efficiently. To ensure this, ZF is already developing future-oriented system solutions for smart construction sites. Based on all the activities in the passenger car and commercial vehicle segment, a broad portfolio of Know-How and products can be re-used for Off-Highway vehicle applications. Radar-based environment perception, being just one example to ensure safe vehicle operation.
Source : www.chinaspv.com
Editor : Alice
Views:2821
Tags: ZF
Poster Press to save or share