Dongfeng Trucks Equipped with Dongfeng Cummins Z14 Engine Delivered to Ningxia
June 22,2022
June 22, 2022, Ningxia, China, SY Logistics has been engaged in logistics industry for many years and owned 90 units Dongfeng trucks.

To expand fleet scale and meet transportation needs, SY Logistics purchased another 9 units trucks, all of which are equipped with Dongfeng Cummins Z14 520hp national VI engine. In specific, there are 2 units equipped with Dongfeng Cummins integrated power chain consisting of Endurant AMT gearboxes.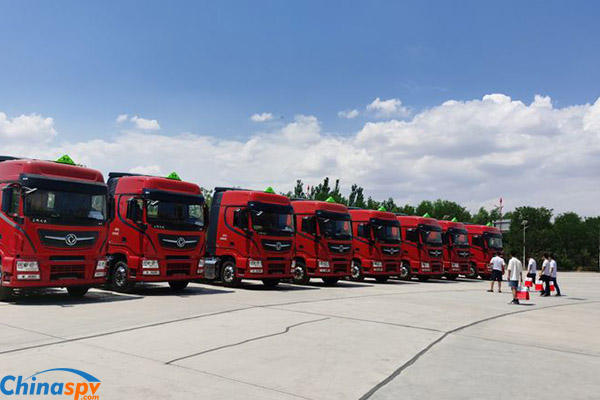 Dongfeng Cummins Z14 engine has a maximum power of 520PS, a maximum torque of 2750N.m, and an average speed increase of 5%, helping users to improve transportation efficiency in an all-round way;

At the same time, the service life of B10 has been increased to 1.6 million kilometers. After high-temperature, high-altitude and high-cold environmental adaptability tests and road test mileage of 15 million+ kilometers, the engine has outstanding quality and guaranteed safety;

Five fuel-saving measures such as low-friction power cylinder and high-efficiency supercharging system are adopted, which can effectively reduce fuel consumption by about 5% and bring higher benefits to users.

Besides, the Z14 national VI engine and Endurant AMT form an integrated power chain of Dongfeng Cummins, and the self-adjusting and maintenance-free clutch is equipped to ensure high reliability and high safety;

Advanced and intelligent shifting logic, combined with the predictive cruise function further reduces fuel consumption costs.
Source : www.chinaspv.com
Editor : Eric
Views:2981
Tags: Dongfeng Cummins
Poster Press to save or share