ZOOMLION Engineering Crane Again Achieves Great Success with Over 100 Exports
May 19,2020
"Green Manufacturing, for a better tomorrow!" Truck cranes and crawler cranes filed out with red banners bearing the above blessing in both Chinese and English from ZOOMLION Quantang Industrial Park. They will go to all parts of China to help major projects; or advance to ports for exporting to assist the construction across the world.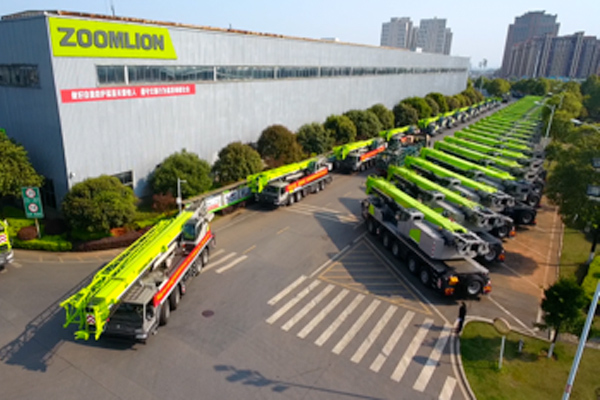 ZOOMLION Engineering Cranes are Delivered to all Parts of the World
Such busy delivery scene remains at the factory site of ZOOMLION Engineering Crane. In the past March, ZOOMLION achieved a record of exporting over 100 crane products in a single month. The Company's truck cranes, crawler cranes, and ship cranes are widely sold in Russia, Indonesia, India, Saudi Arabia, Singapore, and other countries. Against the current severe global epidemic and the increasing downward pressure on the international economy, ZOOMLION's achievement in the export of crane products is highlighted.
In addition to meeting the needs of overseas markets based on the excellent product performance of ZOOMLION, Xia Jun, Vice General Manager of ZOOMLION Engineering Crane Overseas Marketing Company, attributed such great achievement to the following two aspects.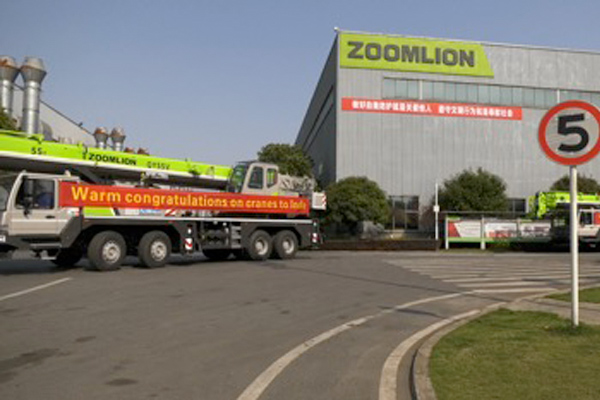 ZOOMLION Truck Cranes Depart from the Factory for India
Firstly, the full streamlining of ZOOMLION's products R&D, manufacturing, and sales services in overseas market improved significantly the efficiency of overseas business operation. Xia said, "With more direct business engagement, more effective and considerate management, the overseas customers can get better purchase experience and more comprehensive services." Secondly, ZOOMLION's localized services in its global overseas bases have provided important security and support for the overseas business of each subsidiary.
However, such success now, besides attributable to the improved efficiency of overseas business operation, also grew out of the struggle to overcome other difficulties caused by the epidemic. "The sales of over 100 construction crane products per month are also benefited from the rapid recovery of our production capacity, which provides guarantee for our product delivery," said Xia.
As early as February 5, ZOOMLION Engineering Crane started to resume production under the guidance of governing authorities and the Group and enhanced production and operation, while tightly preventing and controlling the epidemic. Responding quickly and overcoming a series of difficulties such as short supply of parts from upstream links and insufficient logistics, ZOOMLION Engineering Crane quickly restored production order and capacity. By the end of February and early March, its production capacity had basically returned to the pre-epidemic level and well met the domestic and foreign market demands.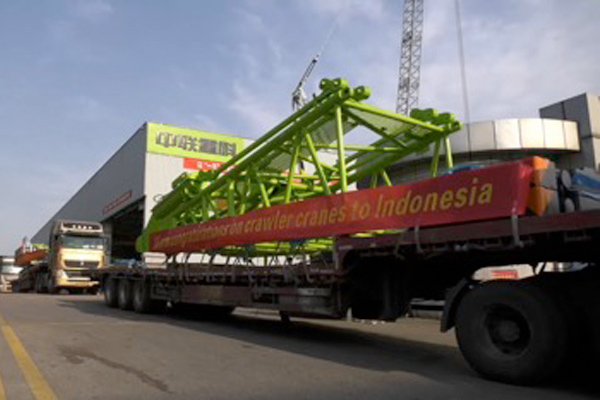 ZOOMLION's Crane Products are Ready to Depart for Indonesia
At present, due to the epidemic, there exist uncertainties in overseas markets. However, it is worth noting that, according to many economic experts, with the alleviation of the epidemic or the emergence of "effective cure", an "explosive recovery" will be expected in overseas markets.
In a changing environment, uncertainty does exist and we can only be sure of ourselves. "The current achievement shows at least that good preparation is necessary even during the epidemic, namely positive measures will help to bear fruit in any case. No matter how the situation changes, ZOOMLION is fully prepared", said Xia. "We will help construction around the world and contribute ZOOMLION's power to the global anti-epidemic battle by excellent products and perfect services.
Source : ZOOMLION
Views:1891
Tags: ZOOMLION
Poster Press to save or share