Official SANY Dealer for the Whole of Ireland: SLEATOR PLANT
April 22,2020
Having taken on the SANY excavator dealership for the whole of Ireland towards the end of 2019, sleator plant were confident the quality of the SANY machines would impress the Irish market.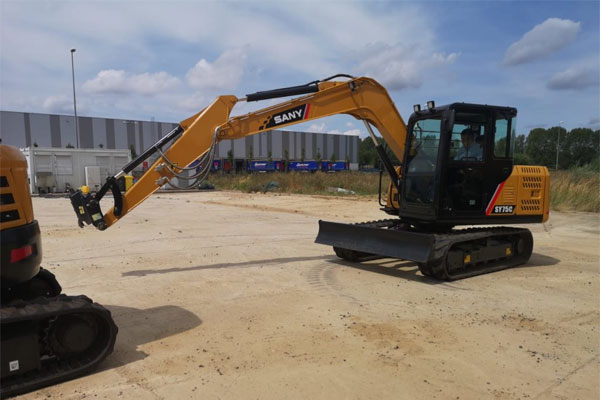 Remaining at the forefront of the industry, Newtownabbey based Sleator Plant are thrilled to officially announce their brand new SANY dealership.
The Sleator Plant team are delighted to be adding the SANY range of tracked excavators to their existing portfolio. With a current line up featuring other world leading brands such as Mecalac, Genie and Terex Trucks, the SANY range of tracked excavators compliment the company's current offering perfectly.
Sleator Plant's Dealer Principal, Jonathan Campbell commented, "We are thrilled to announce a partnership with SANY to sell their full range of excavators throughout Ireland".
SANY are the fifth largest manufacturer of heavy machinery in the world and Sleator Plant are pleased to be able to supply the entire island of Ireland with their tracked excavators, which range from 1.6 Ton to 50 Ton. The team have spent a number of years thoroughly researching the market, Jonathan explained, "Over the past few years, we have researched the global excavator market and we believe SANY are the best placed manufacturer to make an impact in Ireland." He added, "any preconceptions we had with the Chinese brand were quickly dispelled when we visited the European facilities in Bedburg, Germany. We put the machines through their paces and were impressed by the outstanding quality and power of the Sanys".
The global equipment suppliers European Sales Manager, Tony Thorpe, commented, "Sany's success and growth in Europe over the last three years has surpassed our initial plan and with Ireland a big part of this growth, we are very happy that Sleator Plant have chosen to partner with SANY for this journey. Sleator Plant will undoubtedly exceed all customer expectations as a company that go above and beyond, providing first class service for customers countrywide".
With a reliable product, the right dealer and manufacturer support, SANY are set to impress and so confident are both SANY and Sleator Plant in the product, all machines come with a 3 year powertrain warranty with the larger tracked excavators, the SY75 and above, with an additional 5 year / 10,000 hour boom, chassis and dipper warranty and with a 45% buy back guarantee, the companies really are putting their money where their mouth is.
Jonathan Campbell, Sleator Plant Dealer Principal concluded, "Sleator Plant will operate from 2 premises, one based at our head office in Mallusk, Northern Ireland and a second based in the Republic of Ireland, West of Dublin. It is our passion to provide market leading machines with five star back up and service to all four corners of the Island. We plan on rolling out an aggressive demonstration programme on the SY135 (14 Ton) and SY215 (20 Ton), and with a number of customers showing interested and signing up already, we are eager to get the machines digging."
Sleator Plant are excited for the future of Sany in Ireland and welcome you to try for yourself.