China Sold Over 695,500 Units Diesel Engines in January
February 26,2021
According to the latest statistics, China sold 4.5876 million units internal combustion engines in January, reaching the highest record in the same period in the past three years. The figure was down by 7.46% compared with the sales volume in December in 2020, but was 37.03% higher than the sales volume in the same month in 2020.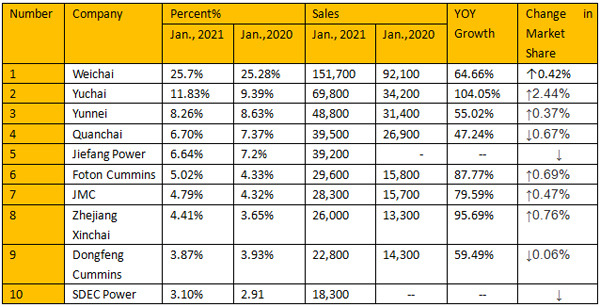 Also in January, China sold 695,500 units diesel engines, up by 15.81% against that in the previous month and up by 63.51% year on year. The total sales volume of diesel engines made up for 15.16% of the total engine sales volume in the industry. In the diesel engine market, the multi-cylinder diesel engines sold 590,200 units, up by 17.36% against that in the previous month and up by 61.69% year on year. The multi-cylinder diesel engines for commercial vehicles sold 356,800 units, up by 13.50% against that in the previous month and up by 50.87% year on year.
Compared with the sales volumes in January in 2020, Yuchai, Weichai, Foton Cummins, JMC, and SDEC witnessed varied degrees of growth in the same month this year. Yuchai's market share went up from 9.39% in January last year to 11.83% this year, witnessing the largest expansion among all engine players.
Weichai's market share continued to expand to 25.7% in January this year, maintaining its leading position in the market. CNHTC, which was one of the top ten players in China's engine market, was absent from the list of the top ten brands of multi-cylinder engines for 12 consecutive months.
Also worth mentioning is that the market share of Weichai's multi-cylinder diesel engine for commercial vehicles reached 33.03%, up by 4.99 percentage points from the figure in January last year, and up by 11.36 percentage points compared from the figure in the whole year of 2020.
It is also revealed that Weichai's business revenue in January went up by 58% year year and its total profits grew by 51% year on year. In addition, Weichai sold a record high of 150,000 units engines in January. Sources show that medium- and light trucks and heavy-duty trucks under 460 horsepower made by CNHTC are all equipped with Weichai engines.
Source : www.chinaspv.com
Poster Press to save or share