XCMG Hanfeng G7 Mining Dump Trucks Delivered to Fujian in Batches
May 25,2022
May 25, 2022, Fujian, China, Recently, XCMG Automobile delivered 20 units Hanfeng G7 mining dump trucks to major customers of molybdenum mine in Fujian.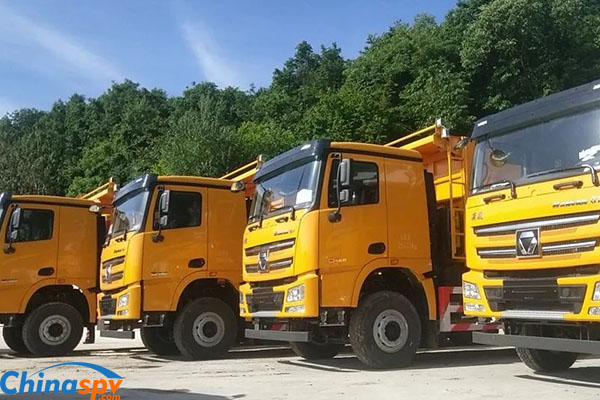 XCMG Hanfeng G7 mining dump truck adopts a special engineering version powertrain composed of Weichai, FAST and Hande, which has excellent performance.

The reinforced gearbox has high durability and the 16-ton double-stage rear axle has strong bearing capacity.

XCMG Hanfeng G7 mining dump truck builds a three-level verification system for parts, systems and complete vehicles to ensure the reliability. The core powertrain B10 has a life span of more than 1.5 million kilometers, and its reliability ranks at the leading level in the industry.

The cage structure cab, with the thickest part of the steel plate reaching 4mm, has the international first-class level of impact resistance, deformation resistance and safety.

In view of the particularity of mine operation, XCMG Heavy Truck has launched an after-sales service for major customers, and fully guarantees high attendance with one-stop service.

XCMG Hanfeng G7 mining dump truck will definitely help to build green mines and promote energy saving and emission reduction.
Source : chinaspv.com
Editor : Mark
Views:2941
Tags: XCMG
Poster Press to save or share