Shaanxi Automobile Attended 2021 China International Fire Exposition
October 14,2021
October 14, 2021, Beijing, China, On October 12, 2021 China International Fire Equipment Technology Conference & Exposition was held in Beijing. Shaanxi Automobile attended the expo with 3 types chassis and 5 types fire trucks, and signed strategic cooperation agreement with Henan Senyuan Homa Electric Automobile Co., Ltd. on the site about intelligent upgrade of special purpose vehicles.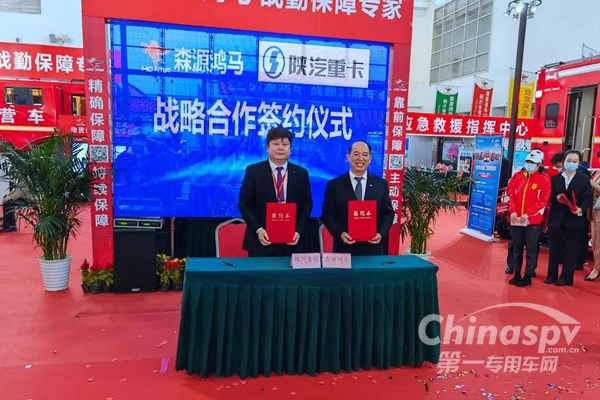 Shaanxi Automobile's products included the newly developed SX2119 4×4 national VI emission all-terrain off-road vehicle chassis, which can be applied in all-terrain fast response fire trucks, forest fire trucks, equipment fire trucks, etc. In addition, 80m water tower fire truck adopts X3000 platform SX5549 10×4 chassis, and the excavator suction truck uses new M3000 platform SX1259 6×4 chassis, which has strong off-road and rescue capabilities.

As an important R&D and production base of China heavy-duty military off-road vehicles, Shaanxi Automobile has always kept its mission in mind, insisted in technology innovation, and contributed to national defense and economic construction with advanced technology.
Source : chinaspv.com
Editor : Alice
Tags: Shaanxi Automobile